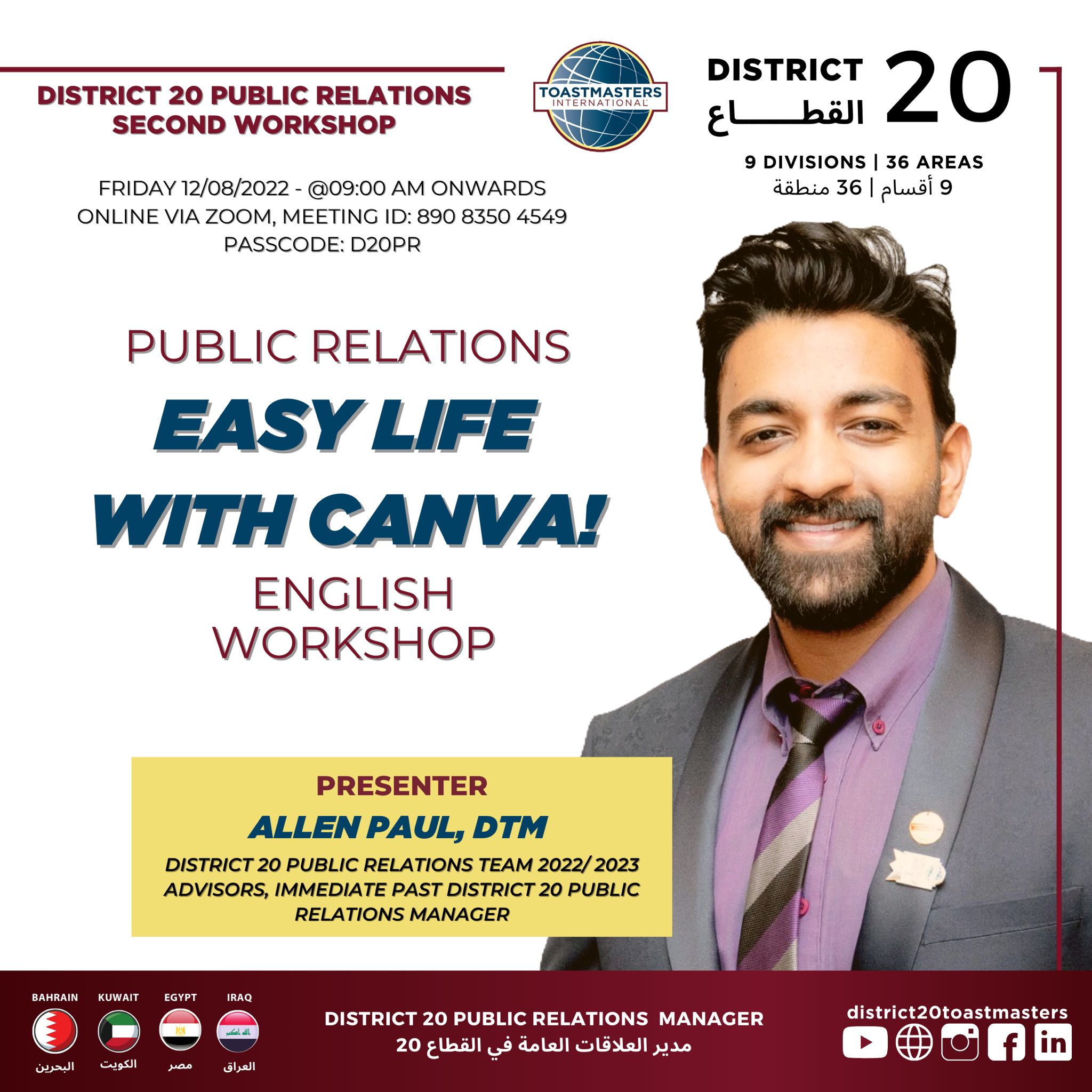 Design Workshop
"Design is the silent ambassador of your brand" ~ Paul Rand
Once you have become a VPPR or PR, majority of your time and efforts goes into designing posters, newsletters, videos … etc. It can be quite challenging if you know zilch about designing.
Learn the ABC's of Designing using Canva and make your role as VPPR or PR much more easier.
"𝐄𝐚𝐬𝐲 𝐋𝐢𝐟𝐞 𝐖𝐢𝐭𝐡 𝐂𝐚𝐧𝐯𝐚!"
𝐀 𝐃𝐢𝐬𝐭𝐫𝐢𝐜𝐭 20 𝐏𝐑 𝐖𝐨𝐫𝐤𝐬𝐡𝐨𝐩
Time: Aug 12, 2022 09:00 AM Kuwait
"التصميم هو عبارة عن سفير صامت للهوية الخاصة بك" ~ پول راند
بمجرد ان اصبحت نائب الرئيس للعلاقات العامة او مسئول عن العلاقات العامة، اغلب وقتك سوف يُخصص للتصميم المنشورات الاعلانية، النشرات الاخبارية، الفيديوات … الخ. وسوف يكون تحديا بالنسبة لك اذا لم يكن لديك معرفة بالتصميم مسبقا.
اعلم اساسيات التصاميم وكيفية استخدام برنامج كانڤا واجعل دورك كنائب الرئيس للعلاقات العامة او مسئول عن العلاقات العامة اسهل بكثير.
*ورشة "حياتك اسهل مع كانڤا" باللغة العربية مقدمة لكم من قبل فريق العلاقات العامة في القطاع 20 *
يوم السبت 13 اغسطس 2022
الساعة : 6:30 مساء توقيت الكويت +3UTC
Zoom meeting
Meeting ID: 890 8350 4549
Passcode: D20PR